Our goal: to grow fabulous food, friendships and community while learning organic gardening practices.
Open:
3rd Sunday of the month – 9:00 – 1:00
For information about our new open access scheme, which allows garden members access at hours of their own choosing, contact Michael Hyland or Sharon Miller. See below for contact details.
Welcome:
keen gardeners
all ages (children with a carer)
all experience and abilities
Find us:
182 Bowral Street
BOWRAL
Access is from the eastern end of McDonald Street
Drive past the preschool
Turn right into the church driveway
Find the garden to the right of the car park
Find out more:
Contact: Michael Hyland 0448 739 373
Sharon Miller 0451 536 423
Bee Hotel Workshop

Our Bees Need Help!
Encourage native bees and other insects to your garden by making them a cosy hotel.
We are hosting a workshop with Peter Nolan
⦁ 18 August
⦁ 10am–12 midday
⦁ In the garden–-access via McDonald Street off
Bowral Street
Twenty places are available
Cost: $10 per person
To book, contact
Sharon Miller
Phone: 0451 536 423
Email: 7hispasture@gmail.com

Exploring the Garden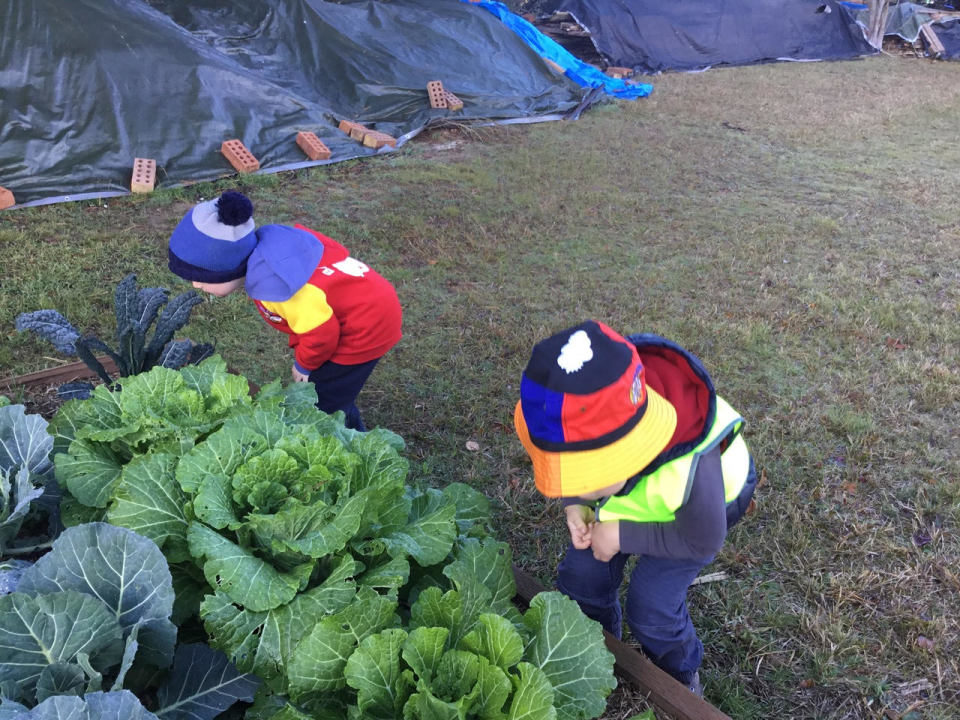 June 26 was an exciting morning for the older children from Bambino's Kindergarten.
A dingo was digging the garden paths and since the children are learning about construction it was too good an opportunity to miss.
The children loved exploring the garden while they were there and are eagerly anticipating the day, in the not too distant future, when they have garden beds of their own.

"The white face of the winter day came sluggishly on, veiled in a frosty mist…"
From "A Christmas Carol" by Charles Dickens
Does that sound like a winter morning in the Southern Highlands? We have our share of misty mornings, don't we?
LOOKING BACK
Thank you, Marcella for assisting Michael with the watering roster and everyone who has helped to water the gardens.
Liz has been faithfully checking the rain gauge and this year, so far, we have received the following monthly rainfalls at the garden: -
January - 120 ml, February – 16 ml, March - 83.5 ml April – 12 ml and May so far – 5 ml
Next time you are in the garden take a look at the garden noticeboard. A big thankyou to Mel Salmond for such a beautiful noticeboard, at last really useful.
The community garden donation box is now on a stand, a much better idea than attached to one spot. Thank you again Mel.
Jenny and Phil Oregon, representing Oz Harvest in the Southern Highlands, were pleased to receive boxes of food from our garden during April. Each time we were able to contribute, but especially on the occasions when donations from supermarkets have been sparse, our contribution has been very much appreciated. Thank you Elaine for facilitating these donations.
We have been pleased to welcome new members to our garden team this season. Some regular attenders have not yet been inducted to the garden team and, since having a good member base is helpful when making applications for grants, we would encourage you all to attend the next induction program.
Do your friends know about our garden, especially about some of the upcoming events? Perhaps you could share this letter with them.
WINTER IN THE GARDEN - 2019
August 18 is a date to record in our calendars. Peter Nolan will conduct a workshop in our garden and participants will be able to make a bee hotel to take home for their own home gardens. Watch for further details. Registration will be required.
Our water tank has been paid for by a generous donor. A 5000 litre tank was able to be purchased for very little more than a 3000 litre tank. After a long delay, due to a mix up with the order, it will be arriving on May 31.
The Bowral Men's Shed has begun work on the table and benches that will go under our pergola.
June
Sunday 9th Robertson Market (10am-2pm)
Thursday 13th Management Committee meeting 4:30pm
Sunday 16th Working bee in the garden (10am-2pm)
Come along at 10am for a Garden Working Team meeting
July
Thursday 11th Management Committee meeting 4:30pm
Sunday 14th Robertson Market (10am–2pm)
Sunday 21st Working bee in the garden (10am-1pm)
August
Thursday 8th Management Committee meeting (4:30pm)
Sunday 11th Robertson Market (10am-2pm)
Sunday 18th Bee hotel workshop with Peter Nolan (10am)
NB Work on the paths is due to begin soon and possibly work to establish some more garden beds. Some extra working bees may be required, especially for the men in our midst, so watch for special announcements regarding these.
Looking forward to seeing you in the garden.
In the meantime, stay warm.
Sharon Miller
Four Seasons Community Garden News
What's on in the garden?
Mini Workshop – 7th April at 10am in the garden
Broccoli and some of its cruciferous cousins are at home in the Southern Highland winters.
*Learn why they are called super veggies
*Learn how to grow them
*Plant a few while you are here
What to bring: Gardening gloves and a trowel if you have one. Hope to see you in the garden
"Season of mists and mellow fruitfulness" – John Keats
Hello everyone. We have survived a hot summer in the garden. A big thankyou to everyone who has helped with the watering! Now, let's enjoy the cooler mornings and evenings as we prepare our garden for the winter chills. Sharon
AUTUMN IN THE GARDEN
Have you all caught up with the fact that there will be no Thursday working bees in the garden from now on? Instead, you are free to visit the garden at a time that suits you best. If you need details of this new arrangement please contact Michael Hyland or Sharon Miller.

How is your composting going? We enjoyed an excellent workshop on the 17th of February!
Please note the planned induction program scheduled for the 17th of March. Please notify Sharon Miller that you plan to attend.

There is no working bee over Easter weekend.

We will need some extra working bees to lay paths and erect the water tank. Watch for these SOS calls.
March
Sunday 17th working bee with Michael (9am-1pm)
Sunday 17th induction program (10am for about an hour)
April
Sunday 7th working bee with Michael who will teach us about brassicas and other winter crops
Sunday 14th Robertson Market (10am–2pm)
May
Sunday 12th Robertson Market (10am-2pm) - coincides with Mother's Day
Sunday 19th working bee and meeting of the garden working team
Composting Workshop
A full class of 25 eager composters attended a workshop in the garden on Sunday, 17th February. Fortunately the compost bays are in the shade because it was a hot morning.
Jill Cockram, the coordinator of the Moss Vale Community Garden, explained and demonstrated both a cold composting method and a hot composting method for making beautiful compost. Thank you Jill.
Each attendee gratefully received a free compost bin from the Wingecarribee Shire Council. A big thank you to Libby Guest, the Waste Education Officer for the Wingecarribee Shire Council who facilitated registration for this event and organised the gifts of compost bins. Thank you too, to the ladies from the garden working group who provided a lovely morning tea
November 18, 2018 Garden Day

Luncheon Cooked and Eaten in the Garden

At the end of a busy morning working in the garden and on the Gazebo by enthusiastic garden volunteers, Birte with Liz working alongside, worked her culinary magic and served the garden team with a delicious lunch using ingredients mainly grown at the community garden. Complements from satisfied diners were abundant as everyone wondered how they could produce such a delicious meal so quickly.

October Springfest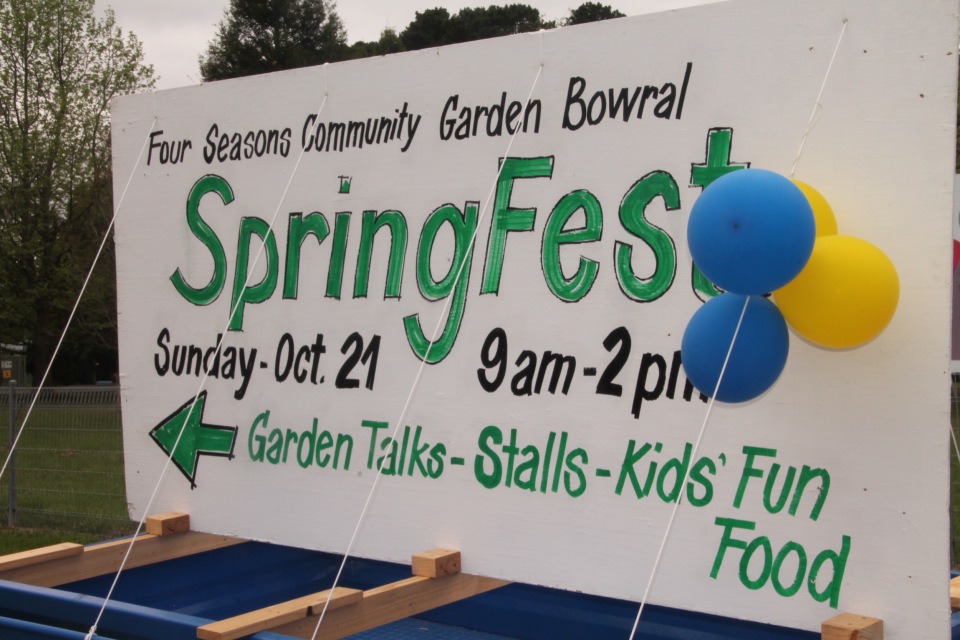 Four Seasons Community Garden - Bowral
The ADRA Four Seasons Community Garden – Bowral, was alive with activity on Sunday morning, 21 October. A large group of helpers gathered to transform the garden into SpringFest, an event designed to share the good news of a community garden for Bowral with the community.
A mild, calm day encouraged a steady trickle of people to come to the event where they listened to short talks on gardening themes, browsed an array of stalls, and enjoyed lunch or a snack to the soothing sounds of the buskers' music.
Not only did everyone seem to be enjoying themselves, but a number of people expressed an interest in becoming a member of the garden team or in receiving information about upcoming events. Funds raised will go towards much needed garden infrastructure.
Thank you everyone who helped to make SpringFest a success!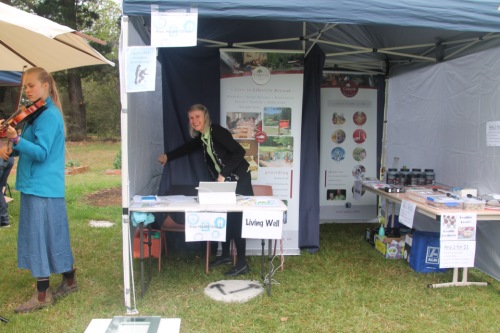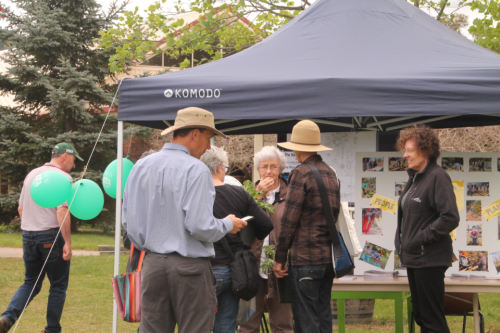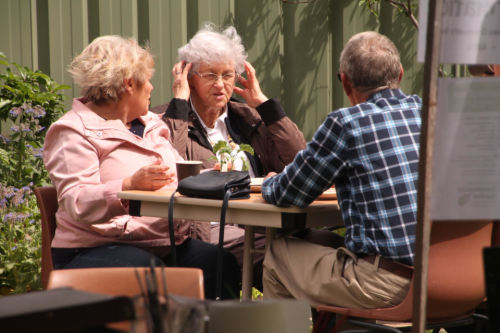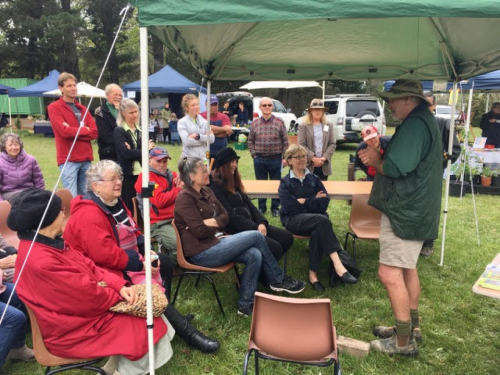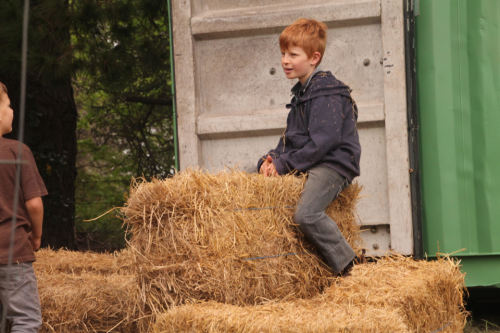 Citrus Tree Planting Demonstration

A lovely sunny morning was a great start to our garden event on May 27. A lemonade tree joined the other citrus trees in our garden. Michael, our garden supervisor, managed the planting, answered questions and encouraged the keen garden helpers to join in the fun.
Honey Ginger Lemonade and Fruit Truffles were served for refreshments.

Recipe for Fruit Truffles
Ingredients
1cup dried fruit of your choice
1 cup jumbo raisins
3/4 cup cashew nut pieces
1tsp lemon juice
1 tsp grated lemon rind
1/4 tsp salt
1/4cup desiccated cocount (for coating)
Method
Place ingredients - except coconut - in a food processor.
Process for 1-2 minutes until ingredients start to stick together.
Process for another 15 seconds, adding a little water if mixture is too dry.
Place coconut in a separate bowl.
Take teaspoon-sized portions of mixture and shape into balls.
Roll in the coconut.
Place in an airtight container and chill in the fridge until ready to serve.
(Acknowledgement: "Simple, Tasty, Good", Signs Publishing Company, 2010)